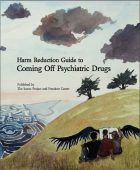 Now available as an audiobook!  Based in more than 10 years work in the peer support movement,The Icarus Project and Freedom Center's 52-page guide is used internationally by individuals, families, professionals, and organizations to support reducing and coming off psychiatric drugs. Includes info on mood stabilizers, anti-psychotics, anti-depressants, anti-anxiety drugs, risks, benefits, wellness tools, psychiatric drug withdrawal, information for people staying on their medications, and much more. Audiobook read by Guide author Will Hall.
A 'harm reduction' approach means not being pro- or anti- medication, but supporting people where they are at to make their own decisions. Written by Will Hall, with a 55-member health professional Advisory Board, more than 50 collaborators involved in developing and editing, and now available in 14 languages.
The Guide and this audiobook are Creative Commons copyright and you have advance permission to link, copy, broadcast, and distribute. (Text version here: www.willhall.net/comingoffmeds).
Download the Audiobook here (rt/cntrl-click save as).
Podcast: Play in new window | Download (Duration: 2:03:07 — 113.2MB)
Subscribe: Google Podcasts | RSS