Also check the Production Blog for recent news.
Madness Radio: Voices and Visions From Outside Mental Health is a regular FM show produced through WXOJ-LP in Northampton MA, and aired on KWMD in Anchorage Alaska, KBOO in Portland Oregon, and several other stations.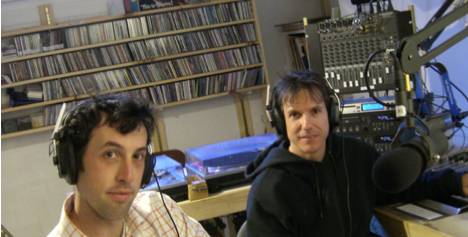 Madness Radio is syndicated through the Pacifica community radio network and shows are picked up by stations around the country and internationally. The show is also vailable online and through iTunes. Hour long shows are produced monthly, with a special 30-minute version also available.
Our Focus
An hour-long interview format, Madness Radio focuses on personal experiences of 'madness' and extreme states of consciousness from beyond conventional perspectives and mainstream treatments. Madness Radio also features authors, advocates, and researchers on madness-related topics, including civil rights, science, policy reform, holistic health, history, and art.
Madness Radio presents voices often marginalized by other media, and takes a critical approach to mental health policy, corporate marketing, and institutional medical science. Each in-depth interview challenges listeners to a new understanding of experiences that are often stereotyped and feared, and encourages reconsideration of how to improve care and truly meet human needs. The show respects all treatment and medication choices people make, while providing an opportunity to hear outsider perspectives and overcome misinformation. Madness Radio is part of the international movement for diverse-ability rights, informed consent, and self-determination, and envisions a community development rather than medical approach to human emotional distress.
Broadcasting regulary since 2005 (recently producing our 100th show), Madness Radio is co-sponsored by peer run mental health communities Freedom Center, The Icarus Project, and Portland Hearing Voices. Host Will Hall was diagnosed with schizoaffective schizophrenia and works as an advocate, counselor, and educator internationally. Will is co-founder of Freedom Center, a past co-coordinator of The Icarus Project, and assistant director of Portland Hearing Voices, as well as being one of the original organizers that got Valley Free Radio started.
Listen to http://www.valleyfreeradio.org
Listen to the promo clip here, and the outro clip here
Why "Madness Radio"?
While no word can be adequate — all risk imposing an interpretation from outside a person's experience –I chose to call the show simply "Madness Radio" to evoke a historical and open-ended perspective on what people go through and the social responses they encounter. I hope the phrase evokes thoughtful consideration of a timeless human mystery, and reaches beyond the limited language of "mental health." Above all I want to raise the question, "who is calling who crazy?"
The People Who Make/Made It Happen
Host: Will Hall (more about Will here).
Producer: Jenka Soderberg
Past Producers: Nina Packebush, Leah Harris. Past Assistant Webmastering: Scott Lahteine.
Past Music Producer: John Rice, past technical assistance: Jeremy Lansman.
Some previous guest hosts include: Keely Malone, Bonfire Madigan Shive, Cheryl Alexander, Caty Simon, and Oryx Cohen.
Thanks to Valley Free Radio and Prometheus Radio Project for making low-power FM possible and inspiring the creation of Madness Radio.
How To Listen
Head over to our Latest Shows page and click the player button to listen to shows from the archive. You can also search by keyword and browse show topics.
If you're using an older browser, try a podcast, or click the Download link below each show. In general you'll do better on the internet if you download and use Firefox. (If your browser doesn't have flash, just click the download link and play the file after it's saved on your computer.)
Subscribe to the podcast by clicking this icon, or, even better, search for Madness Radio on the iTunes store so our rating will go up.
Alternately, you can copy and paste our feed url address to the "Subscribe to Podcast" field in your music player: http://feeds.podtrac.com/cVvsOaMvXxRx (if you click the link your browser will try to add it for you, or take you to the feed page). You can also subscribe automatically using iTunes by clicking here: https://itunes.apple.com/us/podcast/madness-radio-voices-visions/id268090544
You can also subscribe by email to receive alerts when new shows are available, then listen at our site.
If you need help subscribing to our podcast, try any of the How To pages on the
internet, such as this one
Can I put Madness Radio on my website?
Can I broadcast the shows? Can I link, copy, and share?
Yes! Every show is Creative Commons attribution/non-commercial/non-derivative copyright. That means you have permission in advance to spread the shows in any way you can think of (as long as you don't alter them, don't make any money off it, and you credit and link to madnessradio.net). Feel free to burn onto cd or copy and share files. (And we're flexible: contact us for permission to use in other ways, such as translation into another language.)
It's best if you link to the show posts here so that people come to our site and we get the traffic, but if you want to host the files yourself on your own site you are welcome to!
You can even set up a feed aggregator on your site to automatically display latest shows (take a look at a left sidebar example here). And here are some badges and logos for posting and linking.
How Can I Help Out and Get Involved?
Madness Radio needs you — Visit our Contact page to find out more!
To receive reminders by email when a new show is available, click 'email reminders' in the right side Subscribe box.
Contact your community or college radio station and ask them to broadcast us weekly or bi-weekly. Stations are often looking for new and innovative programming, don't be shy to give them a call with your recommendation. There is a list of Pacifica network stations here.
Please consider making a tax-deductible Donation to Madness Radio. The show is entirely volunteer run, and even small donations help.
Any questions about helping out? Just send Madness Radio an email.
I want to be a guest! Can I send you my book/story/poetry etc?
I'm inspired by the creativity, courage, and talent of people who ask to be guests on the show (when they ask on their own behalf; the flood of publicists emailing me is less inspiring!).  I receive a large volume of email and it is impossible to review everything submitted, much less invite everyone to be a guest. I select guests through an algorithm so complex even I don't understand it. Almost all of my guests did not themselves ask to be guests; those who did ask provided reviews and links to other interviews and explained how they would make a unique contribution. I do apologize to those I am unable to invite on the show or unable to review your books, despite your being worthy of media coverage for your work. Despite all this I encourage to send along what you have, you never know.
Origins of Madness Radio and the History of Valley Free Radio 103.3 FM WXOJ-LP
Read about the origins of Madness Radio at Valley Free Radio, the community radio station initiated by Will Hall and Ed Russell and created by the volunteer efforts of hundreds of people in Northampton Massachusetts, supported by the Prometheus Radio Project: (Low) Power To The People: How Pirate Radio Became Legal and Why Northampton Might Benefit and here Valley Activists Crusade for Free Speech
Just out of curiosity, how is your audio studio set up?
Audio broadcast production is becoming easier and easier. When Madness Radio began we did shows out of the air studio at WXOJ-LPFM, Valley Free Radio (VFR), a low-cost, bare-bones setup built with volunteer labor. After a lot of trial and error experimentation, most shows are now produced from a home studio. It's had many configurations over the years, but is currently comprised of: a broadcast industry-standard Shure SM-58 mic, MacBook air, Zoom, Audio Hijack previously and Zencastr now, a Centronics MicPort Pro USB mic preamp, cable modem line, and Audacity. For field recording I sometimes use a Sony MZ-M10 Hi-MD recorder and ECM-MS907 mic. Our webhost is Mayfirst People Link, a union shop.